Published
: 2018-11-13
Last Updated
: 2018-11-13 19:50:14 UTC
by
Johannes Ullrich
(Version: 1)
1 comment(s)
This month, Microsoft patches two issues that have already been disclosed publically. One is related to BitLocker trusting SSDs with faulty encryption. If an SSD offers its own hardware-based encryption, BitLocker will not add its own software encryption on top of it, to save CPU cycles. But last month, it became known that SSD hardware encryption is often implemented badly and can easily be bypassed. As a result, Microsoft releases a patch and also an advisory with details regarding Bitlocker's behavior and how to override it.
The second publicly disclosed vulnerability is the ALPC elevation of privilege issue that was disclosed by SandboxEscaper via Twitter. ScandboxEscaper disclosed a very similar issue a couple months ago. Microsoft patched the issue, but apparently not completely.
Finally, these updates address a Win32k elevation of privilege vulnerability (cve:2018-8589) which has been exploited in the wild.
For a more detailed breakdown, see Renato's dashboard: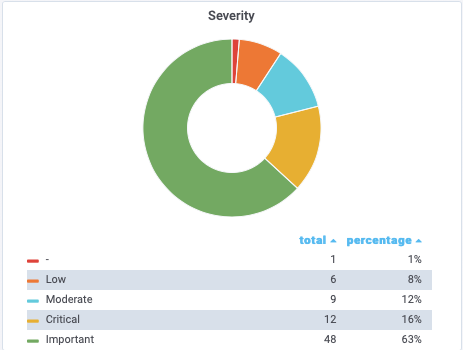 Description
CVE
Disclosed
Exploited
Exploitability (old versions)
current version
Severity
CVSS Base (AVG)
CVSS Temporal (AVG)
.NET Core Tampering Vulnerability
CVE-2018-8416
No
No
Less Likely
Less Likely
Moderate
Active Directory Federation Services XSS Vulnerability
CVE-2018-8547
No
No
Less Likely
Less Likely
Important
6.5
5.9
Azure App Service Cross-site Scripting Vulnerability
CVE-2018-8600
No
No
-
-
Important
BitLocker Security Feature Bypass Vulnerability
CVE-2018-8566
Yes
No
Less Likely
Less Likely
Important
4.6
4.6
Chakra Scripting Engine Memory Corruption Vulnerability
CVE-2018-8588
No
No
-
-
Critical
4.2
3.8
CVE-2018-8541
No
No
-
-
Critical
4.2
3.8
CVE-2018-8542
No
No
-
-
Critical
4.2
3.8
CVE-2018-8543
No
No
-
-
Critical
4.2
3.8
CVE-2018-8551
No
No
-
-
Critical
4.2
3.8
CVE-2018-8555
No
No
-
-
Critical
4.2
3.8
CVE-2018-8556
No
No
-
-
Critical
4.2
3.8
CVE-2018-8557
No
No
-
-
Critical
4.2
3.8
DirectX Elevation of Privilege Vulnerability
CVE-2018-8485
No
No
Less Likely
Less Likely
Important
7.0
6.3
CVE-2018-8554
No
No
More Likely
More Likely
Important
7.0
6.3
CVE-2018-8561
No
No
Less Likely
Less Likely
Important
7.0
6.3
DirectX Information Disclosure Vulnerability
CVE-2018-8563
No
No
-
-
Important
4.7
4.2
Guidance for configuring BitLocker to enforce software encryption
ADV180028
Yes
No
-
-
Internet Explorer Memory Corruption Vulnerability
CVE-2018-8570
No
No
-
-
Important
6.4
5.8
Latest Servicing Stack Updates
ADV990001
No
No
-
-
MSRPC Information Disclosure Vulnerability
CVE-2018-8407
No
No
Less Likely
Less Likely
Important
3.3
3.3
Microsoft Dynamics 365 (on-premises) version 8 Cross Site Scripting Vulnerability
CVE-2018-8605
No
No
-
-
Important
CVE-2018-8606
No
No
-
-
Important
CVE-2018-8607
No
No
-
-
Important
CVE-2018-8608
No
No
-
-
Important
Microsoft Dynamics 365 (on-premises) version 8 Remote Code Execution Vulnerability
CVE-2018-8609
No
No
-
-
Critical
Microsoft Edge Elevation of Privilege Vulnerability
CVE-2018-8567
No
No
-
-
Important
5.4
4.9
Microsoft Edge Information Disclosure Vulnerability
CVE-2018-8545
No
No
-
-
Important
4.3
3.9
Microsoft Edge Spoofing Vulnerability
CVE-2018-8564
No
No
-
-
Important
4.3
3.9
Microsoft Excel Remote Code Execution Vulnerability
CVE-2018-8574
No
No
More Likely
More Likely
Important
CVE-2018-8577
No
No
More Likely
More Likely
Important
Microsoft Exchange Server Elevation of Privilege Vulnerability
CVE-2018-8581
No
No
Less Likely
Less Likely
Important
Microsoft Graphics Components Remote Code Execution Vulnerability
CVE-2018-8553
No
No
-
-
Critical
7.4
6.7
Microsoft JScript Security Feature Bypass Vulnerability
CVE-2018-8417
No
No
More Likely
More Likely
Important
4.5
4.5
Microsoft Outlook Information Disclosure Vulnerability
CVE-2018-8558
No
No
Less Likely
Less Likely
Important
CVE-2018-8579
No
No
Less Likely
Less Likely
Important
Microsoft Outlook Remote Code Execution Vulnerability
CVE-2018-8522
No
No
More Likely
More Likely
Important
CVE-2018-8576
No
No
More Likely
More Likely
Important
CVE-2018-8524
No
No
Less Likely
Less Likely
Important
CVE-2018-8582
No
No
More Likely
More Likely
Important
Microsoft PowerShell Remote Code Execution Vulnerability
CVE-2018-8256
No
No
Less Likely
Less Likely
Important
6.3
6.3
Microsoft PowerShell Tampering Vulnerability
CVE-2018-8415
No
No
Less Likely
Less Likely
Important
3.3
3.3
Microsoft Project Remote Code Execution Vulnerability
CVE-2018-8575
No
No
Less Likely
Less Likely
Important
Microsoft RemoteFX Virtual GPU miniport driver Elevation of Privilege Vulnerability
CVE-2018-8471
No
No
Less Likely
Less Likely
Important
7.0
7.0
Microsoft SharePoint Elevation of Privilege Vulnerability
CVE-2018-8572
No
No
Less Likely
Less Likely
Important
CVE-2018-8568
No
No
Less Likely
Less Likely
Important
Microsoft SharePoint Information Disclosure Vulnerability
CVE-2018-8578
No
No
-
-
Important
Microsoft Skype for Business Denial of Service Vulnerability
CVE-2018-8546
No
No
Unlikely
Unlikely
Low
Microsoft Word Remote Code Execution Vulnerability
CVE-2018-8539
No
No
-
-
Important
CVE-2018-8573
No
No
More Likely
More Likely
Important
November 2018 Adobe Flash Security Update
ADV180025
No
No
-
-
Important
Team Foundation Server Cross-site Scripting Vulnerability
CVE-2018-8602
No
No
-
-
Important
Win32k Elevation of Privilege Vulnerability
CVE-2018-8562
No
No
More Likely
More Likely
Important
7.0
6.3
Win32k Information Disclosure Vulnerability
CVE-2018-8565
No
No
-
-
Important
4.7
4.2
Windows ALPC Elevation of Privilege Vulnerability
CVE-2018-8584
Yes
No
More Likely
More Likely
Important
7.8
7.5
Windows Audio Service Information Disclosure Vulnerability
CVE-2018-8454
No
No
Less Likely
Less Likely
Important
2.5
2.5
Windows COM Elevation of Privilege Vulnerability
CVE-2018-8550
No
No
Less Likely
Less Likely
Important
7.0
6.3
Windows Deployment Services TFTP Server Remote Code Execution Vulnerability
CVE-2018-8476
No
No
More Likely
More Likely
Critical
8.1
8.1
Windows Elevation Of Privilege Vulnerability
CVE-2018-8592
No
No
Less Likely
Less Likely
Important
6.4
6.1
Windows Kernel Information Disclosure Vulnerability
CVE-2018-8408
No
No
More Likely
More Likely
Important
3.3
3.3
Windows Scripting Engine Memory Corruption Vulnerability
CVE-2018-8552
No
No
More Likely
More Likely
Important
2.4
2.2
Windows Search Remote Code Execution Vulnerability
CVE-2018-8450
No
No
More Likely
More Likely
Important
7.5
6.7
Windows Security Feature Bypass Vulnerability
CVE-2018-8549
No
No
Less Likely
Less Likely
Important
5.5
5.0
Windows VBScript Engine Remote Code Execution Vulnerability
CVE-2018-8544
No
No
More Likely
More Likely
Critical
6.4
5.8
Windows Win32k Elevation of Privilege Vulnerability
CVE-2018-8589
No
Yes
Detected
More Likely
Important
7.8
7.5
---
Johannes B. Ullrich, Ph.D. , Dean of Research, SANS Technology Institute
Twitter|
1 comment(s)
×
Diary Archives