Published
: 2018-02-27
Last Updated
: 2018-02-27 05:51:19 UTC
by
Brad Duncan
(Version: 1)
1 comment(s)
Introduction
I wrote a diary about malicious spam (malspam) pushing the Formbook information stealer back in November 2017. Formbook malspam is still a thing. Recently, I've seen malspam with RTF attachments disguised as Word documents. These files use one of the recent exploits targeting unpatched versions of Microsoft Office like CVE-2017-8570 to infect computers with Formbook.
Today's diary reviews recent Formbook malspam from Monday 2018-02-26.
Details
The email is disguised as a requirements document for a supposed sale. The email has a .docx attachment which is a decoy document that checks clean in VirusTotal. The email also has an RTF attachment disguised as a .doc file with the Microsoft Office exploit.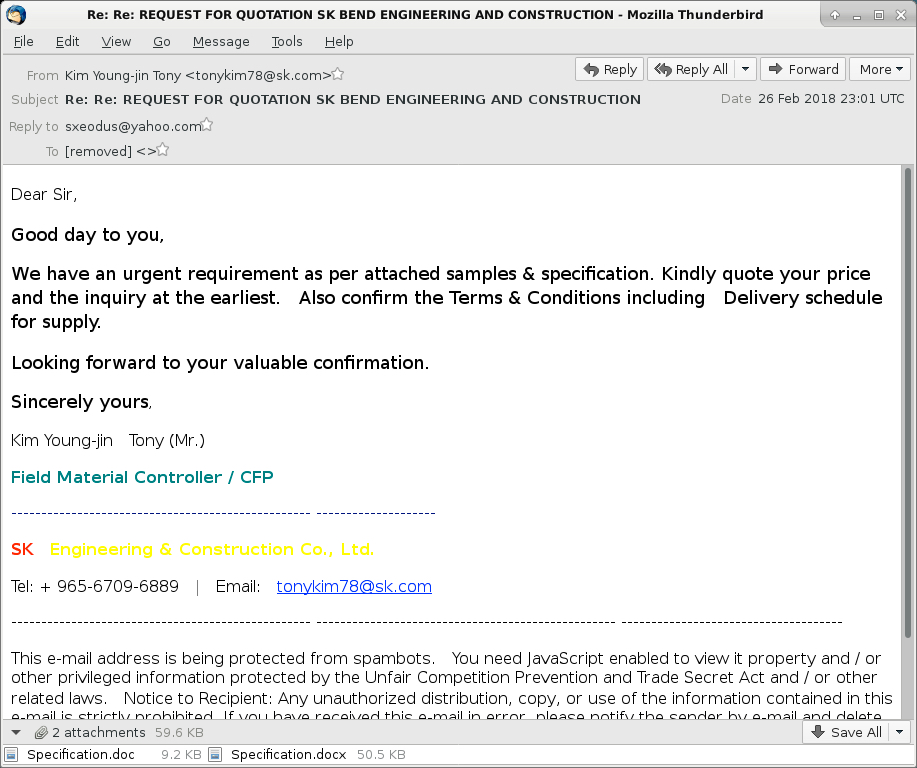 Shown above: Screenshot from the malspam.
Opening the .doc attachment caused the same type of activity I've seen with previous RTF attachments using a CVE-2017-8570 exploit to target unpatched versions of Microsoft Office.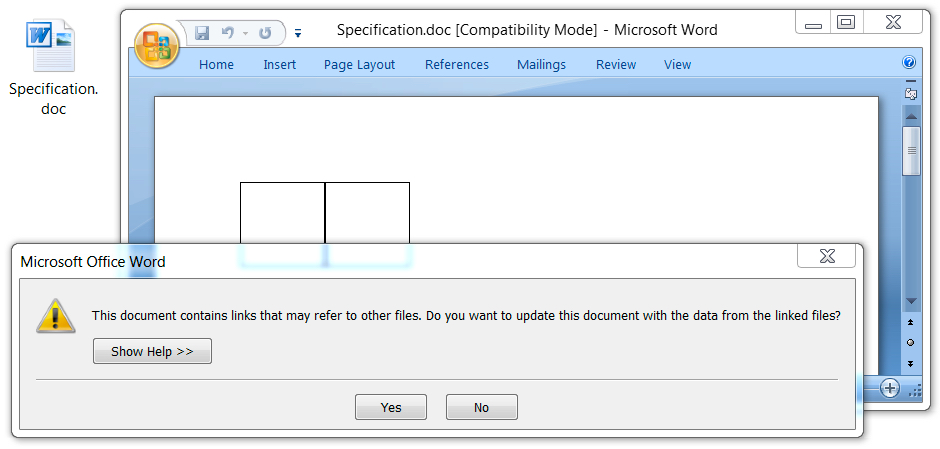 Shown above: Opening the RTF file on a vulnerable Windows host.
Post-infection traffic followed typical URL patterns I've seen before with Formbook. However, an initial HTTP request was caused by the RTF attachment to retrieve the Formbook binary. Checking that server, I found an open directory hosting other malware. Some of the malware was Formbook, some of it was Loki-Bot, and some of it I couldn't immediately identify.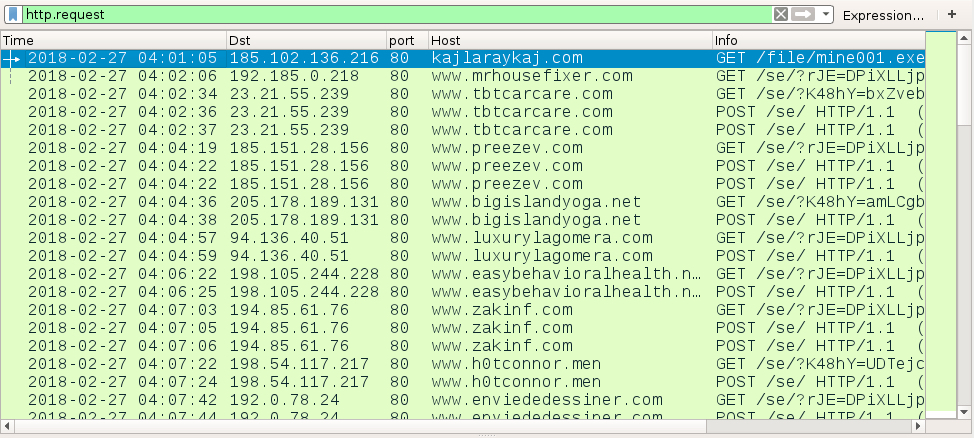 Shown above: Traffic from the infection filtered in Wireshark.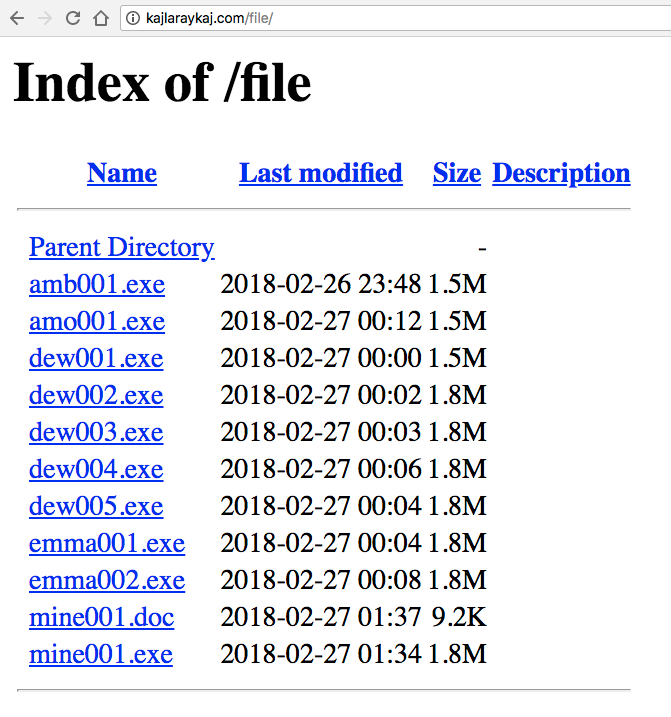 Shown above: Open directory on the compromised server showing more malware.
The infected Windows host showed the same type of artifacts I've seen previously with Formbook malware. Formbook was made persistent on the infected Windows host through an update to the Windows registry.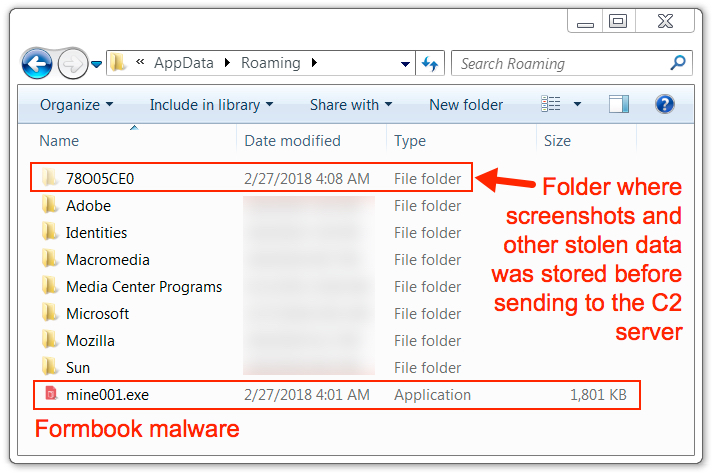 Shown above: Artifacts in the user's AppData\Roaming directory.


Shown above: Windows registry showing Formbook persistent on the infected host.
File hashes
The following are SHA256 file hashes for malware from the compromised server's open directory:
1dc75220bb88f51c4b5360302d9a27e2c2b4371fd9bf7a4ea22fb473b7c2dc6c - amb001.exe
b0e4efe1a8bba94620599f55d53242ed6a620fac21b0df37a6fd032b7f7e6887 - amo001.exe
e4376d593b255d9d86c38bcafc03e6257578761250488f36170a06a7d986f853 - dew001.exe
cb15dd1e1a8d6cf5c4104f5939d9299ad94803e58ec35cb4854b153878a00ce9 - dew002.exe
ebe6a9d8157723f6094f2ffce63874b360858f9c72b523ed94f389f3d04c4942 - dew003.exe
ec5355b2bbb85324152dea7ea091ab76de7a66dd2e6df31bfd764c5a2ece5cdc - dew004.exe
f7ac0508367a4e674f44299d62c17b0001d9e8de8b219ddc190940dad1467997 - dew005.exe
c702b7774bebf4dc0925c57a87adaa52349e14b43c2d1bd418d3cb3250ef1ab3 - emma001.exe
bac0420c56402d30e21e1ce9e236efeb294c4a946d8945458593f1b16aa1172c - emma002.exe
8c65ba2730e674220ce7a6ccdedaf9d6876430f2ddc13fe4456b9c2eb26ceb08 - mine001.exe
37d2de8fd7283a9b2f66fda75a66795d9278b439948b4c17345087e2ab3cc641 - mine001.doc
NOTE: mine001.doc has the same file hash as the RTF attachment from the malspam named Specification.doc.
Final words
As always, properly-administered Windows hosts are unlikely to get infected. To infect their computers, users would have to ignore multiple warnings from Microsoft Word when opening the malicious RTF attachment. System administrators and the technically inclined can also implement best practices like Software Restriction Policies (SRP) or AppLocker to prevent these types of infections.
Pcap and malware samples for today's diary can be found here.
---
Brad Duncan
brad [at] malware-traffic-analysis.net
Keywords:
1 comment(s)
×
Diary Archives