Published
: 2016-10-25
Last Updated
: 2016-10-25 07:14:00 UTC
by
Xavier Mertens
(Version: 1)
3 comment(s)
In my last diary[1], I gave an example of an uncommon spam message. But attackers have always new ideas to deliver their malicious content to us. Here are two new examples. October being the Cyber Security Awareness month[2], more examples are always welcome.
The first one was delivered as an "NDR" message ("Non-Delivery Receipt") to the SANS ISC handlers mailbox:

From: "Bounced mail" 
To: handlers@isc.sans.edu
Subject: Mail System Error - Returned Mail
Date: Fri, 21 Oct 2016 22:08:23 +0530
X-Priority: 3
X-MSMail-Priority: Normal
X-Mailer: Microsoft Outlook Express 6.00.2600.0000
X-MIMEOLE: Produced By Microsoft MimeOLE V6.00.2600.0000
Message-Id: <20161021163820.8819C40060@isc.sans.org>
X-Envelope-To: UNKNOWNX-Loop: handlermail

Your message was not delivered due to the following reason(s):

Your message could not be delivered because the destination server was
not reachable within the allowed queue period. The amount of time
a message is queued before it is returned depends on local configura-
tion parameters.

Most likely there is a network problem that prevented delivery, but
it is also possible that the computer is turned off, or does not
have a mail system running right now.

Your message was not delivered within 1 days:
Server 32.80.249.78 is not responding.

The following recipients could not receive this message:


Please reply to postmaster@isc.sans.edu
if you feel this message to be in error.
Attached to this mail, a malicious ZIP file with a .pif file inside. The file is in fact a PE file (MD5: 2aa0d2ae9f8492e2b4acda1270616393). The hash was unknow to VT but once uploaded, it was reported as a very old worm, nothing very malicious.
The second example was received by one of our readers is a fake SharePoint notification: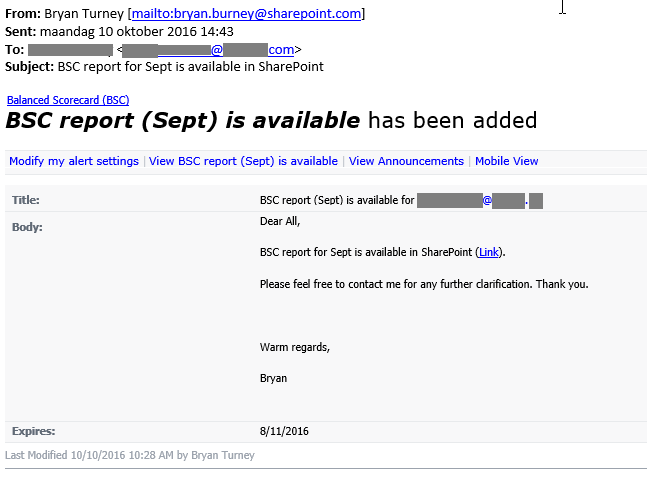 The link points to hxxp://thekchencholing.org/.https/www/sharepoint.com/sites/shareddocument/SitePages/Home.aspx/index.php?wreply=YW5keS5nZXJhZXJ0c0BjZWdla2EuYmUN (the site has been cleaned up in the meantime). SharePoint is a common Microsoft tool used in big organizations and people could be lured by this kind of message.
Most spam campaigns are easy to detect but some messages, when properly redacted, may lure the victim easily. We are never far from an unfortunate click. Stay safe!
[1] https://isc.sans.edu/forums/diary/Spam+Delivered+via+ICS+Files/21611/
[2] https://www.dhs.gov/national-cyber-security-awareness-month
Xavier Mertens (@xme)
ISC Handler - Freelance Security Consultant
PGP Key
3 comment(s)
×
Diary Archives