Published
: 2015-01-09
Last Updated
: 2015-01-09 07:49:15 UTC
by
Mark Hofman
(Version: 1)
8 comment(s)
Quite a few of you have written in to let us know that Microsoft is changing the way in which they provide information (thanks to you all). You can read the full blog here --> http://blogs.technet.com/b/msrc/archive/2015/01/08/evolving-advance-notification-service-ans-in-2015.aspx
In a nutshell if you want to be advised in advance you now need to register, select the products used and you will then be provided with information relating to the patches that will be released. If you are a premier customer your technical contact can provide information.
The main point for me is this one
"Moving forward, we will provide ANS information directly to Premier customers and current organizations involved in our security programs, and will no longer make this information broadly available through a blog post and web page"
Now a lot of us do look at that information to plan their next patching cycle. So you will need to look at that process and see what needs changing. You'll have to rely on the information in your patching solution, or register.
You can register here: http://mybulletins.technet.microsoft.com/
The dashboard that is created in the end looks nice, but for me to early to tell how useful it is at this stage, although it was slightly painful to review each bulletin. It will take a few patch cycles to sort it all out I'd say.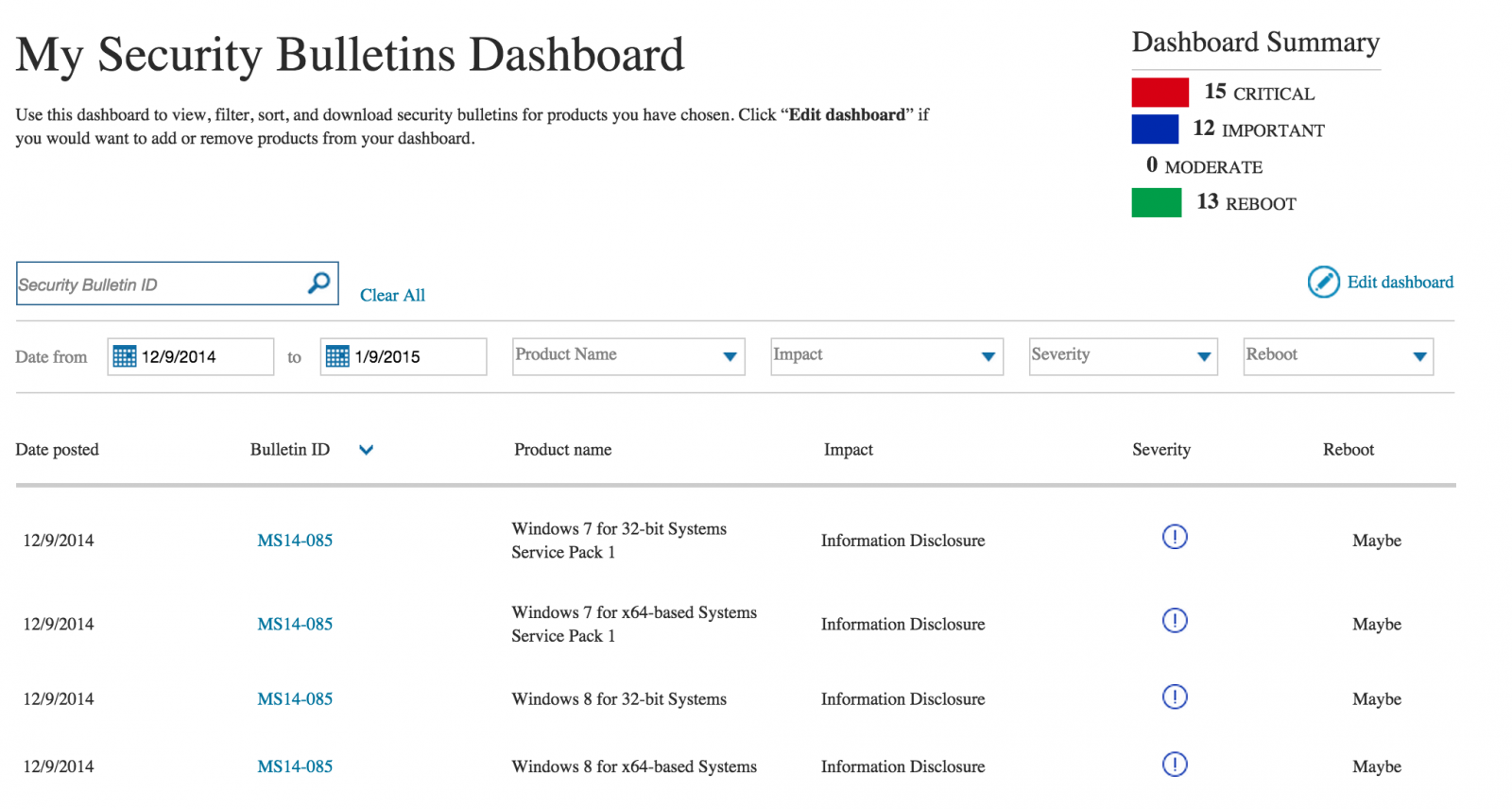 So going forward you will need to adjust how you identify the patches to be applied within your environment. If you do not want to register you can just visit the main bulletins page here --> https://technet.microsoft.com/en-us/library/security/dn631937.aspx
This page has a list of all release bulletins.
Cheers
Mark H
Keywords:
8 comment(s)
×
Diary Archives