Published
: 2011-07-29
Last Updated
: 2011-07-29 16:31:06 UTC
by
Richard Porter
(Version: 1)
2 comment(s)
When Lion first appeared in the Apple App store most of probably blindly click YES YES YES like good little Apple zombies (me included!)... After some updates and fiddling with Applications to get them working I started to take a hard look at what was now leaving my devices. A new series of packets on port TCP 5223 was leaving outbound from my network stack and thanks to Little Snitch [1] I was in control of it.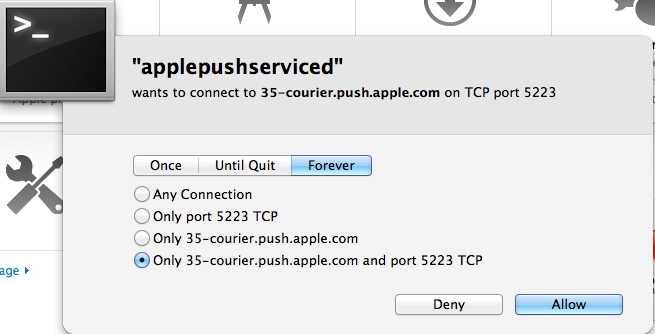 On Apple's support site [2] You will find a list of well know TCP/UDP ports used by Apple operating systems and according to their site:
| | | | | | |
| --- | --- | --- | --- | --- | --- |
| 5223 | TCP | XMPP over SSL, Apple Push Notification Service | - | | MobileMe (Automatic sync notifications) (see note 9), APNs, FaceTime, Game Center |
Check out my first Video Diary of taking a look at these packets.
Richard Porter
--- ISC Handler on Duty
[1] http://www.obdev.at/products/littlesnitch/index.html
[2] http://support.apple.com/kb/ts1629
2 comment(s)
×
Diary Archives